Back to Insights from TSX Trust.
Women's History Month 2021: Q&A with TSX Trust President and CEO Claire Johnson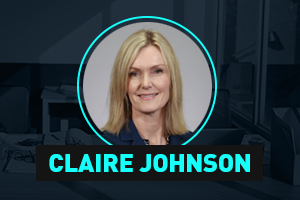 As part of our ongoing celebration of International Women's Day 2021 and Women's History Month, we interviewed Claire Johnson, President and CEO of TSX Trust.
Claire is a mother of five and an accomplished executive with over 20 years of experience in the still male-dominated financial services industry. She talks to us about how the pandemic has impacted her leadership style and the advice she shares with other women.
Q: We've all read stories about how the pandemic is having a disproportionate impact on women. Has that influenced your management style during the pandemic?
This past year has reminded me how fortunate I am to have my health, a great family and career.
But indeed, there were challenges, especially in the early days of the pandemic. Like many other women, I had to deal with competing roles of being a mother, a leader and a spouse while coming to terms with all the shifting expectations.
To help our employees, our management team made a concerted effort to understand how our people were faring and to delve a little deeper than we had in the past into our employees' personal lives. Did they have young children they needed to look after? Was everyone physically and emotionally healthy?
We wanted to understand people's situations and find ways to support them. I encouraged my team to regularly set time aside for breaks and block off their lunch hour to have quality time with their families. We've also been accommodating to individuals with unique situations — especially those affected by child-caring and other household duties — with things like flexible working hours.
I'm also really proud of some of the things we did as an organization. Early on, our HR team launched a wellness series — with articles, videos, and podcasts — on themes such as physical fitness, nutrition, financial wellness, childcare and eldercare, again recognizing that everyone was dealing with unique challenges.
Q: What advice would you give women struggling with balancing family, career and well-being during this pandemic?
My advice is not to worry about being in balance but to focus on balancing.
To help with this never-ending quest for balance, some rules that work for me are:
Ask for what you need. When you say it out loud, often solutions arise that you would never have expected.
Make sure no one aspect in your work-life balance is out of balance too often. Reassess what you need every few months or as needed.
Have compassion for yourself. Focus on creating a priority list rather than an ever-growing to-do list.
Make some time to do things you enjoy. For me, this is a daily walk with my husband and having dinner with my family.
Be kind to your family, friends, strangers and co-workers. The pandemic has been very hard for everyone.

Q: What advice have you given your daughter about building a successful career?

My advice to my daughter, who is in grade 10, is to do what she loves doing and to remember that what she loves may change over time.
To start your career journey, seek out a professional community, observe and eventually join the conversation. Identify the people you aspire to learn from or work with and reach out to them — it could be as simple as engaging with them on social media or asking for a virtual coffee chat.
Find mentors and sponsors who are honest with you, who challenge you to develop beyond your technical skills and, most importantly, who will speak up for you.
I've also talked to my daughter about imposter syndrome, where women doubt their skills or abilities. If you are offered an opportunity, a job, or a compliment, know you deserve it and don't second guess yourself.
Q: What does International Women's Day mean to you?
International Women's Day is a chance to celebrate the many achievements of women in Canada and around the world. It's a time for gratitude and to recognize the men and women that have advocated for us along the way. It's a time to take action to help identify and create opportunities for women in Canada. For me, this means helping to advance qualified women into leadership positions within TMX Group.
This year, in the midst of the COVID-19 pandemic, I'm also thinking about how the pandemic has resulted in the drop in female participation in the workforce and the extra burdens put upon women. We need to be mindful of this and find ways to support women to continue their progress.
Copyright © 2021 TSX Inc. All rights reserved. Do not copy, distribute, sell or modify this document without TSX Inc.'s prior written consent. This information is provided for information purposes only. TMX, the TMX design, TMX Group, The Future is Yours to See., TSX, and Voir le futur. Réaliser l'avenir. are the trademarks of TSX Inc.